Annual CPD Fast Track 2021
October 7, 2021 - October 8, 2021




9:00 am - 5:30 pm
This event will be conducted in English.  Exact venue to be announced. 
The Annual CPD Fast-Track Conference is targeted to all the busy legal and finance professionals to accumulate their yearly CPD points. Join the conference to enhance your knowledge and receive the latest update and recent amendments in 15 core areas including Arbitration, Litigation, Technology in Legal during COVID and many more! 
Register today to earn up to 15 CPD points in a 2-days event or Day 1 for 8 CPD points; Day 2 for 7 CPD points. Book now to secure your seat at our Early Bird rate today!  To register or view the full program, please download the flyer Download
Event Details
Date: 7 & 8 October 2018 (Thu & Fri)
Day 1: 8:30am –  6:00pm  (8 CPD points)
Day 2: 9:00am – 5:30pm (7 CPD points)
Venue: Empire Hotel Hong Kong • Wan Chai,
Empire Room, 1st Floor, 33 Hennessy Road,
Wan Chai, Hong Kong
Language: English
Pricing
Early Bird Registration is now open! Register on or before 3 September 2021 to enjoy the special rate.
Early Bird Rate – on or before 3 September 2021
HK$3,750 for Day 1 (7 Oct 2021) – 8 CPD points
HK$3,599 for Day 2 (8 Oct 2021) – 7 CPD points
HK$5,599 for Day 1 & 2 – 15 CPD points
Normal Rate – from 4 September 2021
HK$4,150 for Day 1 (7 Oct 2021) – 8 CPD points
HK$3,999 for Day 2 (8 Oct 2021) – 7 CPD points
HK$6,499 for Day 1 & 2 – 15 CPD points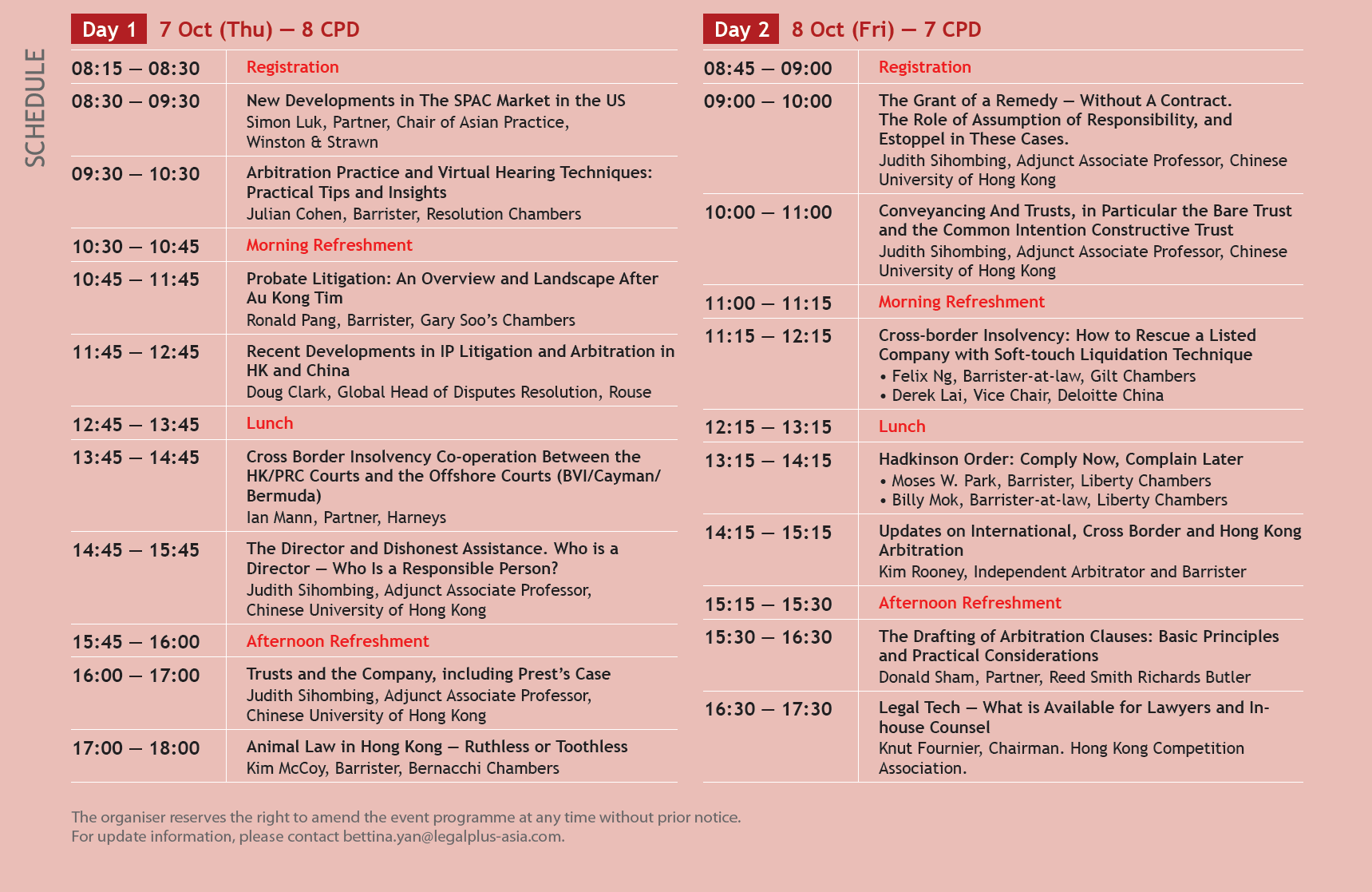 For more information, please contact
Bettina Yan
Event Director
Email: Bettina.yan@legalplus-asia.com